Return to Headlines
All-City Musical 'Memphis' this weekend at Ohio Theatre
CMSD NEWS BUREAU
5/22/2015
"Memphis" is about to rock Cleveland: CMSD's 16th Annual All-City Musical opens tonight at the Ohio Theatre in Playhouse Square.
The show features nearly 50 students from almost 20 different schools across the District, some as young as seventh grade. The cast, which also features veteran All-City actors and singers, has been rehearsing since February.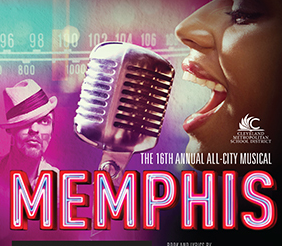 Inspired by actual events from the underground dance clubs of the 1950s, "Memphis" is about a white radio DJ who wants to change the world and a black club singer who is ready for her big break.
Students learned about the time period and race relations through social studies lessons during rehearsals.

"Memphis" runs Friday through Sunday at the Ohio Theatre in Playhouse Square.
Shows on Friday and Saturday begin at 7:30 p.m. and on Sunday at 3:00 p.m. Tickets are $15.
For more information and to buy tickets, go to the
Great Lakes Theater website.