Return to Headlines
Children's author visits Miles Park, Artemus Ward schools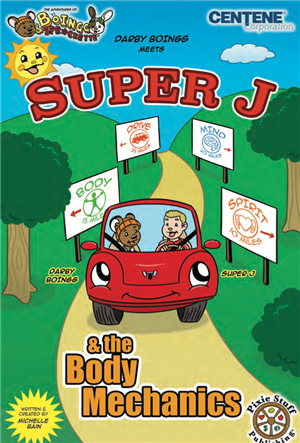 CMSD NEWS BUREAU
May 14, 2015
Miles Park and Artemus Ward students last week hosted children's author Michelle Bain as part of the Buckeye Health Plan Adopt-A-School program and served as one of the first audiences for a reading of her new book.
Bain presented her new book, "Super J and the Body Mechanics" to students at both schools on Thursday, May 7.
The book tells the story of how a character named Darby does not have enough energy, so he turns to Super J for help.
The story, which recently won a national award for health literacy books, helps students understand the the need for good nutrition, adequate sleep, exercise, hydration with water and having a positive attitude.
Buckeye Health had partnered with the schools during the course of the year, teaching health lessons to fourth- and fifth-grade students.
The students also received a new book written by Bain on a different health topic each month. Subjects included healthy lunches, bullying, gardening, physical activity, hygiene, and Black History Month.
Students at the two schools had also worked on project and applied for he Alliance of a Healthier Generation Bronze Medal Award.