Return to Headlines
CEO says CMSD "shook the status quo to its core"
CMSD NEWS BUREAU
9/30/2014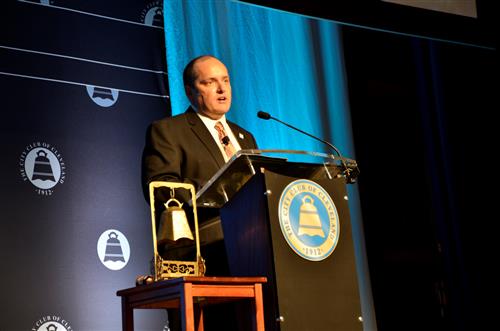 The Cleveland Metropolitan School District is making good on a vow to revamp a failing culture, CEO Eric Gordon said Tuesday in the annual State of the Schools address.

In his half-hour speech, Gordon took an audience of more than 850 on a trip back through a year of needed "disruption" and recounted shifts that, driven by reforms in The Cleveland Plan, have begun reshaping the District.

"The 2013-14 school year will likely be remembered as the year that CMSD shook the status quo to its core and kept our promise to taxpayers and voters that the District cannot and will not tolerate business as usual in an any area," he said to applause in the ballroom of the Cleveland Renaissance Hotel.

Hosted by the City Club of Cleveland, the address laid out sweeping reforms spurred by the state-sanctioned education plan, a landmark collective-bargaining agreement with the Cleveland Teachers Union and Issue 107, a four-year levy that generated the District's first new operating funds in 16 years.

The CEO plowed through a checklist of old ways now gone: cycles of budget deficits and layoffs, perfunctory teacher evaluations, automatic pay raises and decisions based on the interests of adults, not children.

Gordon noted that the District instituted rigorous evaluations, tied compensation to student achievement and ushered out 42 administrators and teachers for poor performance. Of more than 2,800 classroom teachers, only 14 percent have received the top rating of accomplished.

CMSD was able to recruit for the first time in years, hiring 232 teachers for openings largely created by retirements and 27 principals and assistant principals. The District transferred much of the authority over spending and hiring to individual schools, allowing them to fill 85 percent of open positions with input from the community.

"The disruption of the 2013-14 school year was more than a shift in organizational culture," Gordon said. "It was truly a top-to-bottom overhaul of the entire Cleveland public school system – a year of disruption that yielded real, tangible results."

Turning to academic improvements, Gordon listed four new high school models that join a list of innovative and high-performing options.

Bard High School Early College, operated in partnership with Bard College of New York, allows students to earn both a high school diploma and associate degree in four years. The Cleveland High School for Digital Arts, developed in conjunction with the Center for Arts-Inspired Learning, integrates filmmaking, game design and recording-arts technology with core courses.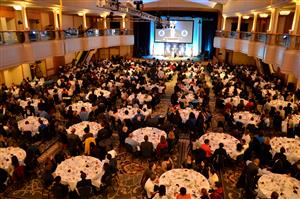 Two other schools were started with the help of $3 million from the Carnegie Corporation of New York. E3agle Academy and PACT (Problem-based Academy of Critical Thinking) feature promotion based on mastery of standards, flexible scheduling and a blend of classroom and online instruction.

At the same time, the District has targeted low-performing Investment Schools for aggressive intervention and started working with private providers to expand access to high-quality preschool through the PRE4CLE initiative.

The CEO drew more applause when he referred to a focus on parent engagement and its results. Honoring a requirement in The Cleveland Plan, 73 percent of parents had face-to-face contact with teachers last school year. attendance at this month's open houses jumped 26 percent for K-8 schools and 9 percent for high schools.

Though CMSD met none of the indicators on its recently released state report card, the District improved on 15 standards and the overall performance index fell one-tenth of percentage point shy of its all-time high. The performance index is a composite of all test scores.

The District's graduation rate reached a record 64.3 percent. The mark is up 5 percentage points from last year and has risen 12 points since Gordon was appointed as CEO three years ago.

Though the information is not on the report, alternative tests helped drive third-grade reading proficiency to 86 percent, allowing those children to comply with Ohio's Third Grade Guarantee and earn promotion. Only 37 percent of third-graders were on track last fall.

Gordon acknowledged that trying to raise achievement in Cleveland or other urban districts may seem like the futile chore of Sisyphus, the mythic king consigned for eternity to push a boulder uphill, only to have it roll back downhill again and again.

But the CEO said the District has lots of helpers pushing, including Mayor Frank G. Jackson, school leadership, the Cleveland Teachers Union, business, foundations and numerous community partners.

"Two years ago, the Cleveland Metropolitan School District faced academic and fiscal bankruptcy. The District's assignment to an Academic Distress Commission seemed inevitable," he said. "Skeptics scoffed at any suggestion that CMSD could survive, but the pulse of this remarkable city proved them wrong."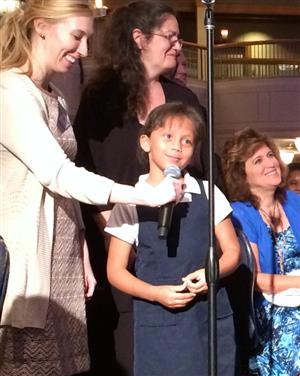 After he finished speaking, Gordon took questions from members of the audience, including several students. A third-grader from Newton D. Baker School stole hearts when she stepped to the microphone and asked how he found time for all of his work.

"I don't have many bad days," the CEO responded. "But when I do, I go to a school and meet someone just like you."

Gordon took in stride a question from a teacher who challenged the expenditure of $9,000 over two years for each of 40 candidates hired through Teach for America. The organization supplies applicants who come from other occupations or courses of study.

The CEO said he was inclined to be "agnostic to the form and seek the quality." He said the District's new teachers are "wonderful," regardless of the route they took to their jobs.

Leaving the ballroom, Sonya Pryor-Jones, director of the Cleveland Central Promise Neighborhood initiative, said she was "encouraged by the progress the District is making as a whole." The Promise Neighborhood initiative, which is led by the Sisters of Charity Foundation of Cleveland and includes CMSD, seeks to organize services that take children in the impoverished East Side area from cradle to college and careers.

"If the District is successful as a whole, our work can be successful," she said.

West Side Councilman Matt Zone said Gordon "nailed it."

"I think we are headed in the right direction," Zone said. "I'm just hoping the community will have patience and believe in the leadership there to execute the plan."