Return to Headlines
Rickoff students learn K-3 core science curriculum through art (video)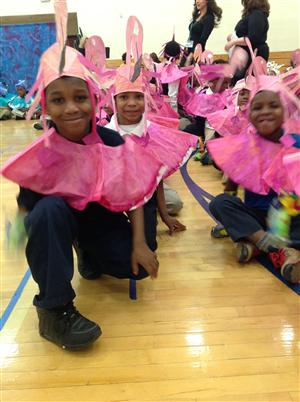 CMSD NEWS BUREAU
3/28/2014
Dressed like butterflies, students at CMSD's Andrew J. Rickoff PreK-8 School sang and danced their lessons Friday morning in a dramatization of the K-3 Core Science Curriculum.
They began their lesson in survival of the species with a rap:
"Science, math and art is what we're gonna do
And the kindergarten's gonna help bring it to you
We got the rap on how animals adapt
We'll show, we'll show, we'll show what we know.
A-D-APT-A-TION: Adaptation!"
The program, attended by District Chief Executive Officer Eric Gordon, school staff and parents, was led by artists from Kulture Kids, an interactive theatre organization that partners with
the Center for Arts-Inspired Learning and Arts is Education to promote creative learning by uniting arts and education.