Return to Headlines
CMSD students tell 'The Truth' at interactive 'Truth Booth' art installation (video)
CMSD NEWS BUREAU

Thursday, Feb. 6, 2014

CMSD students faced the Truth on Thursday at Facing History New Tech.


So did teachers, staff and anyone else willing to walk boldly – or timidly – into an inflatable, white, plastic building the size of a small barn and record a video of themselves finishing one compelling sentence: "The Truth is...."

"The truth is a really tricky thing," said Ansleigh Gill, a 10th-grader who was among about two dozen students waiting to go into The Truth Booth in the FHNT auditorium (the high school shares Charles A. Mooney K-8 School on Montclair Avenue) around mid-morning Thursday. "I no longer think it's a very easy thing to find."

Perhaps not, but thousands of people so far have been willing to take a shot.

The video booth, which debuted at an Irish arts festival in 2011, is the centerpiece of a traveling interactive art display initiated by a San Francisco-based partnership called Cause Collective. The group includes artist Hank Willis Thomas, whose work is being featured at the Cleveland Museum of Art through March, said CMA's Taylor Hoffman, an exhibition assistant who was at the school Thursday

The Truth Booth came to Cleveland as the result of a collaboration between CMA and the local office of Facing History and Ourselves, said its director Mark Swaim-Fox.

The exhibition, which debuted locally at the Cleveland Museum of Art in December, dwarfed the Facing History New Tech auditorium stage on Thursday and will land at a few local churches and other locations before moving on to other cities.

To see a slideshow of the booth installation elsewhere, go to http://bit.ly/LMIgFJ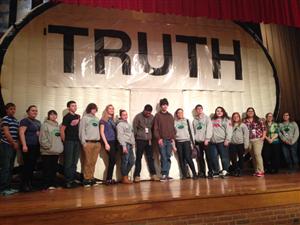 CMA's Hoffman said student responses to the age-old question about the objectivity and immutability of "the Truth" was refreshing.
"This is actually the first school we've been to, and I have to say that this has been the most fun," she said. "Older people seem to get really nervous about being on camera, and I think they also feel that they need to be more philosophical. But the perspective of youth is that you're not afraid to play, and it doesn't always have to be that serious.
"So while the question is a big question, maybe overthinking it is where the problem is."
Xavier Munoz, a ninth-grader at the school, wasn't so sure if he had a fix yet on The Truth.
"The truth takes time to reveal," he said, confessing that once inside the video booth, he took a few takes because he couldn't say it the way it had sounded in his head. "It means honesty and being honest about someone or something, although sometimes the truth will hurt and you'll lie to protect someone's feelings."
Ansleigh Gill also mused over finding the truth on the internet.
"You Google something, and you think that's it, but you still don't know it's true, " she said. "So you're taking a leap of faith, really, and it's hard to verify anything."
She also said the art installation at the school on Thursday and the class studies that preceded it had challenged her thinking about historical facts and media coverage of historical events. FHNT students had spent the first part of the week investigating news coverage of the 1979 shooting deaths of five anti-Klan protestors in Greensboro, N.C.
"Before studying the Greensboro thing, I thought I knew the truth," Ashleigh Gill said. "But when you see it from different points of view, you realize you don't know all of the truth."
Principal Marc Engoglia said the three-day study helped the students "look at a past event that actually happened and determine what really happened -- ultimately, what is the truth."