Return to Headlines
Collinwood/Euclid-Green community meeting added for CMSD Master Plan workshops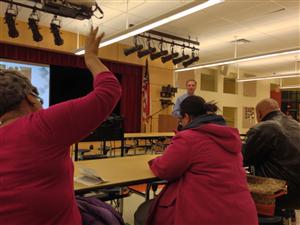 CMSD News Bureau
Thursday, 1/2/14
The District has added another community meeting and f
acilities planning workshop for 6 p.m. on Thursday, Jan. 9, at the Collinwood Recreation Center, 16300 Lake Shore Blvd.
The session is open to anyone but will focus on families and other interested parties in the Collinwood and Euclid-Green neighborhoods, home to the following schools: East Clark,
Euclid Park,
Hannah Gibbons STEM, K
enneth W. Clement Boys' Leadership Academy,
Memorial and
Oliver H. Perry.
The meeting will be the last of 14 held by the District and a consultant, the Cobalt Group, to gather information and opinions about building plans.
If you attend the Jan. 9 session, you'll hear a presentation from
Patrick Zohn, the district's chief operating officer (see photo above from a previous meeting
) and then break into work groups to help CMSD prepare its plan to continue a construction program that started in 2001. You can also download the presentation here.
Voters passed a bond issue in 2001, supplementing state funds. Since then, the District has built 31 new schools, renovated seven others and has three more under construction. (A ribbon cutting will be held Thursday, Jan. 9, at Orchard STEM School, one of
three schools completed
this school year).
You can also follow along on Twitter @CleMetroSchools and join the conversation at #CMSDMasterPlan.