Return to Headlines
ARAMARK Education presents $10,000 check to Denise Link for scholarship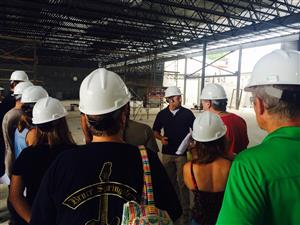 CMSD News Bureau

Tuesday, 12/17/13

Denise Link, chair of the Cleveland Board of Education, was honored again at Tuesday's board meeting as a representative from the ARAMARK Education food-service company presented a $10,000 check for a scholarship that will go to a deserving District student.

Link was honored as the

2013 Urban Educator of the Year at the Council of the Great City Schools' 57th annual fall conference in Albuquerque, N.M. in October.

The scholarship came with the Green-Garner Award, the nation's highest honor for urban education leadership. The criteria for the scholarship has not been determined.

Five big-city school board members competed for the honor. In alternating years, the award recognizes an outstanding school board member and superintendent from 66 of the largest urban school systems in the country. The award is named for Richard R. Green, the first African-American chancellor of the New York City schools, and Edward Garner, who represented school boards on the council in the 1990s and helped to establish the award.

Link was appointed to the Cleveland school board in 2007 and has served as chair since 2009. She has led efforts to transform the Cleveland Metropolitan School District with academic and fiscal reform plans that have received strong mayoral support and funding from taxpayers and local foundations.