Return to Headlines
CMSD considers replacing majority of bus fleet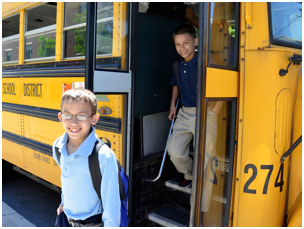 The Board of Education will consider spending up to $17.9 million to replace most of the District's buses.
CMSD's existing buses are an average of 12 to 13 years old and have traveled an average of about 150,000 miles, Chief Operating Officer Patrick Zohn said. He said the District spends $4 million to $4.5 million a year to maintain the buses, which collectively cover roughly 18,000 miles a day.
The Board could decide Tuesday on a proposal to lease 225 buses for seven years. At the end of the lease, the District could choose to buy the vehicles, bringing the total expense to $17.9 million.
Rush Truck Sales of Ohio would provide 176 conventional diesel-powered buses. Cardinal Bus Sales and Service would supply 20 conventional propane-fueled buses and 29 propane-fueled buses with wheelchair lifts.
The Board will meet at 6:30 Tuesday at Artemus Ward School, 4315 W. 140th St.