Return to Headlines
Junior Achievement, AT&T shows students the work world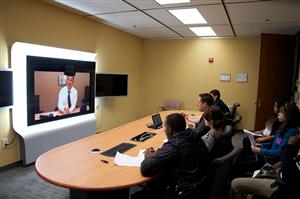 Thursday, December 5, 2013
Ninth- and 10th-graders from John Marshall and Lincoln-West high schools visited AT&T's downtown operations center Thursday to get a glimpse of the corporate world and careers.
The trip was part of a job-shadowing program that Junior Achievement and AT&T provide for at-risk students from District high schools. To qualify, students must be at or below the poverty line, have been absent at least 20 percent of the time and be off the pace for earning the credits they need to graduate.
The 65 students visited various departments in the operations center at Erieview Plaza. A handful were picked to join AT&T of Ohio President Adam Grzybicki in a teleconference with company executives and students in Chicago, Dallas and Mexico City.
The outing was the fifth that Junior Achievement and AT&T have conducted this semester. Other students have visited AT&T stores and a Brecksville call center.