Return to Headlines
CMSD High Schools debut videoconferencing with Cleveland Clinic and Case Western Reserve University
High-tech and healthy eating habits came together Wednesday morning at John Hay High School as Ohio First Lady Karen Waldbillig Kasich helped show off the video conferencing and instruction capability at the building's Early College High School.
Dozens of students, staff, CEO Eric Gordon, media and other stakeholders jammed a third-floor classroom at the school, but they were joined by video link to students and partners in several other locations, including the Cleveland School for Science and Medicine in the same building, but also Cleveland Clinic, Case Western Reserve University and the John R. Buchtel Community Learning Center in Akron.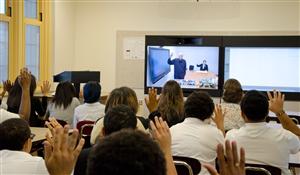 All the groups took part in a brief lesson about fighting diabetes through healthy eating and then First Lady Kasich led a round of questions.
Ohio's 'Connected Health Education' is an initiative to build healthier, well informed citizenry through K-12 and higher education collaboration, according to a news release from Gov. John Kasich's office.