Return to Headlines
Design Lab student chosen as White House kid science advisor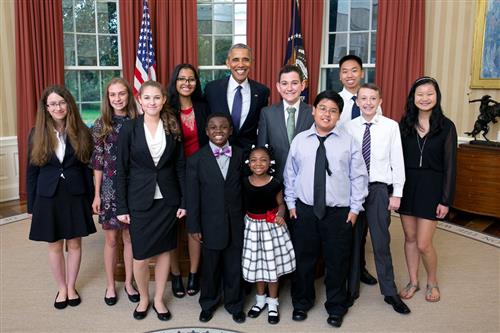 CMSD NEWS BUREAU
11/10/2016
One CMSD student's talents in STEM and computer science have taken him all the way to the White House for the first-ever meeting of President Barack Obama's kid science advisors.
Peng Zhou, a senior at Design Lab Early College High School, was one of 11 students from across the country who were chosen from a pool of 2,500 to meet with the president and some of the nation's top scientists last month. Zhou (back row, second from the right of Obama in the above photo) traveled to Washington, D.C. to present some of his own ideas on how to improve the nation's STEM (science, technology, engineering and math) education and discuss one of his current projects.
The meeting was part of the White House's push to improve science education in the United States by getting input from students on what they think is important in science, technology, and innovation and better engaging the nation's children in STEM fields.
"It was a once-in-a-lifetime experience," Zhou said. "You don't really get to meet the president all the time."
Zhou also met with John Holdren -- Obama's science advisor and director of the White House Office of Science and Technology Policy -- as well as astronauts Scott and Mark Kelly, NASA Director Charles Bolden and National Science Foundation Director France Córdova.
Zhou shared with those men a project he completed using several Raspberry Pis -- credit card-sized supercomputers -- to explore concepts including gravitational pull in black holes. Zhou said Obama told him his idea was "pretty cool."
Obama introduced Zhou and the 10 other kid sciences advisors to the country on Twitter.
Check out my newest science advisors! These kids are fearless in using science to tackle our toughest problems. Thanks for the inspiration. pic.twitter.com/qe7h3IfTTZ

— President Obama (@POTUS) October 21, 2016
It's been a successful year for Zhou, who is currently taking classes at both Cleveland State University and Cuyahoga Community College.

Zhou was a member of the

CMSD robotics team

that won a world championship last spring, beating out 640 teams from across the globe. He also helped create a bomb-seeking robot for the Cleveland police department that was used during the Republican National Convention in July. And the day after the White House visit, Zhou flew to New York City to attend a conference where he heard from inventors and entrepreneurs including the creator of the Nerf gun and the CEO of Lego.

Up next for Zhou is preparing for the next robotics competition, learning the C++ computer programming language and working toward attending Ohio State University after graduation.

Zhou credits some of his success to the support he gets from his mentors at Tri-C, CSU and Design Lab, including Principal Eric Juli.

Juli says that while the White House visit is impressive, he is more excited that Design Lab's model of hands-on, project-based learning is working for students like Zhou.

"The best part about this is that Peng is getting to talk about the way school works best for him," Juli said. "And the way school works best for him is the way we believe school works best for everybody, which is finding ways to connect learning to the world."