Why Workday
---
What we are trying to solve:
Challenges in Cleveland
$65 million budget deficit for 2012-13 school year
31,000 children attend failing schools
More than 30,000 students have left CMSD in ten years
What success could look like: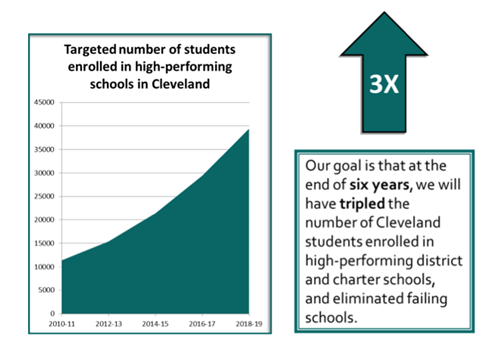 Across the country, urban districts are moving from a traditional, single-source school district … to a portfolio of district and charter schools held to the highest standards and working in partnership to create dramatic student achievement… thereby shifting the role of central office from compliance to performance management and improvement.
---
Characteristics of Portfolio Districts
Citywide choices & options for families
School autonomy
Pupil-based funding
Diverse Support providers
Talent-seeking strategy
Extensive public engagement
Performance-based accountability for schools
- Center for Reinventing Public Education
---
Workday will help meet the operational needs of CMSD to support Talent Management and back office HR, Payroll, Budget, Procurement and Finance processes outlined in The Cleveland Plan. The CMSD Workday program will achieve increased operational effectiveness and efficiencies in business processes enabling focused education and learning with flexibility to support future 21st century learning.
Focus district's central office on key support and governance roles and transfer authority and resources to schools.

- Cleveland's Portfolio Schools Strategy
---
See what Workday will do for you