Early Childhood Education
---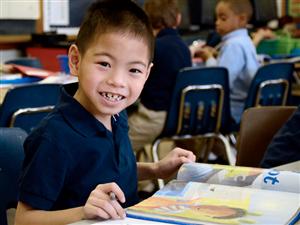 It is the vision of the Cleveland Metropolitan School District that every student in our Early Childhood grades (Pre-K--3) will be successful in a rigorous instructional program. Our Early Childhood program addresses the language and cognitive development of students in addition to addressing the social, emotional, and physical needs of every child.
The mission of the Early Childhood Office is to create a rich and stimulating, child centered environment in every classroom. Parents can expect to find developmentally appropriate teaching strategies in a center-based setting in every one of our Pre-K-3 classrooms.
As we continually strive to optimize the conditions for learning for CMSD's youngest learners, each student is valued for his/her unique experiences and learning style, as we work toward our ultimate goal is to help them become successful independent learners.
Resources
Early Childhood Offices
---
East Professional Center
1349 East 79th Street
Cleveland, Oh 44103
Rooms 112 and 208
216.838.0110
Nicole Vitale
,
Director of Early Childhood Education
Email
| Phone: 216.838.0234
Amy Wallack, Early Learning Assessment and Accountability Manager
Email
| Phone: 216.838.0110
Jacqueline Dietrich
,
Early Learning Instructional Coach
Email
| Phone: 216.838.0110
Traci Inmon
,
Early Learning Instructional Coach
Email
| Phone: 216.838.0110
Erin Shakour
,
Early Learning Instructional Coach
Email
| Phone: 216.838.0110
Hillary Thomas
,
Early Learning Partner and Transition Coordinator
Email
| Phone: 216.838.0110
Jacqueline I. Williams
,
Solution Specialist
Email
| Phone: 216.838.0232
Cassandra Anderson,
Solution Specialist

Email
| Phone: 216.838.0233
Sadie Matlock

, Solution Specialist

Email
| Phone: 216.838.0235