Message from CEO Eric S. Gordon
---
It is my privilege as CEO of the Cleveland Metropolitan School District to welcome our students, staff, families and friends to the 2017-2018 school year!
We are especially pleased to welcome more than 200 educators that are new to CMSD this year and a growing number of families who are choosing CMSD for their child's education. While our scholars have enjoyed time with their families this summer, many of our scholars and educators in our year-round schools returned to their classrooms in July. Other staff have been actively working in schools across the district to ensure our classrooms and school buildings, including six new high school models this year, are ready for the arrival of all CMSD scholars on August 14.
The start of a new school year presents for our school staff, families and caregivers an opportunity to build on the success we have achieved together under The Cleveland Plan. After decades of flat and declining enrollment, CMSD has seen its enrollment increase for three straight years—a testament to the dedication and service of our educators and to the growing trust of families who view Cleveland's public schools as the right choice to prepare their children for the future.
Our "Get to School—You Can Make It" campaign continues in earnest this year, as we extend our partnership with the Cleveland Browns to achieve our ongoing goal to reduce chronic absenteeism—a factor critical in the success of every child, beginning in preschool and kindergarten and continuing to their graduation day. We are grateful to parents and citizens who recognize the role of good attendance at school and who work with us throughout the year to help our scholars get to school, where their futures begin.
All of us—whether we are an educator, parent, caregiver or friend of CMSD—remembers the feeling of excitement we experienced as a child at the beginning of a new school year. That excitement goes far beyond the joy of having new clothes, school supplies or book bags; it is the excitement that comes with the joy of learning and of dreaming of a bright future. Let's build on that excitement in ways that extend that motivation for learning and achieving throughout the school year.
Thank you for your continued trust and support of CMSD, our educators, scholars and families today and every day, and welcome to the 2017-18 school year!
Sincerely,

Eric S. Gordon, CEO
---
Recent Headlines from the News Bureau
---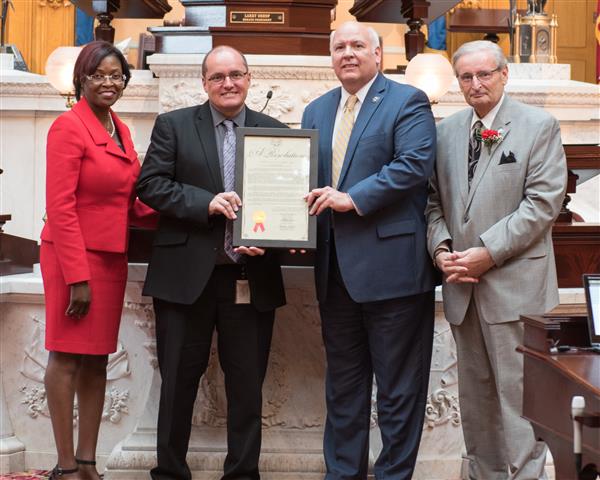 The CEO is honored by the Ohio House and Senate on May 17, 2017 for being named
the national Urban Educator of the Year last fall by the Council of Great City Schools.
---
Photos from the 2016 State of the Schools Address
September 14, 2016
---